Anne W Worrall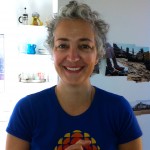 I have always been passionate about the urban environment and thought for a long time that making TV and radio projects about sustainability and community initiatives was the way to go. But after more than l5 years in that world, I came to the conclusion, that for me, it was more important to contribute directly on the ground than preaching about it.  From being an avid amateur gardener, I decided to become a horticulturist.
I obtained my practical skills working for small high end Vancouver landscape firms while attending school. I first earned an Organic Master Gardener's Certificate at Gaia College and later graduated with a Diploma in Landscape Design and Installation at Kwantlen Polytechnic University in Langley. My love of trees and pain at seeing how they are often taken care of – or not -, led me to get the International Society Arborists (ISA) arborist certification.
I love making people happy by providing service, advice or lending an empathic ear while sharing my enthusiasm for plants and beautiful settings as I believe that providing beauty is essential in making the world a better place. I feel privileged to work in nature and for nature. I am thankful that my years of gardening have provided me with a strong back and a true love for getting my hands dirty.
 "I go to nature to be soothed and healed, and to have my senses put in order."                                                                                                                                 John Burroughs